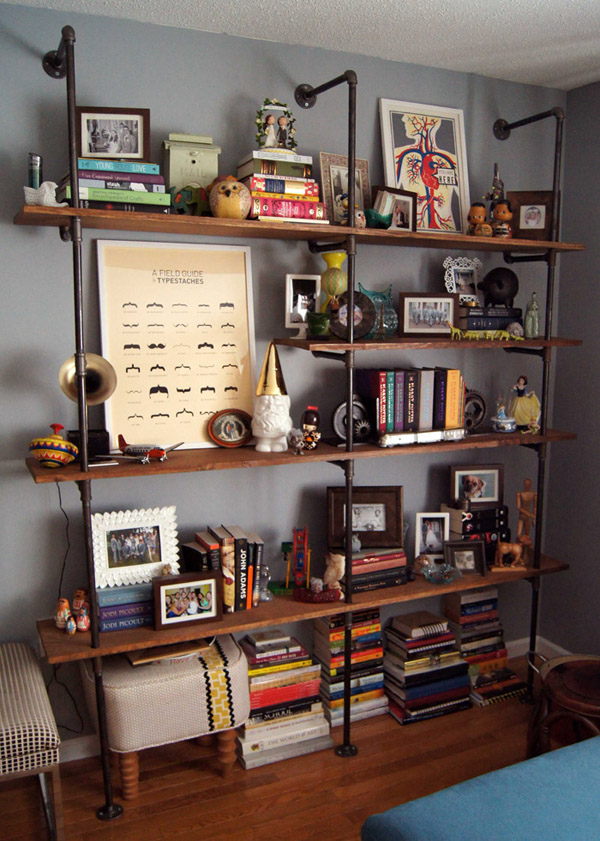 This is a little DIY project I did when we moved into our house. I've always loved big built in shelves, but I wanted something a little more industrial and custom to our taste. When it comes to furniture and design, I'm all about modern and clean, but when it comes to curating bookshelves, I agree with Mae West, "too much of a good thing can be wonderful".
This was an inexpensive project that I did in a day with the help of my Dad. All in all, it cost about $200 in materials and a day of sweat. You will definitely need a second set of hands to put it together. Below is a description of the process and what you'll need.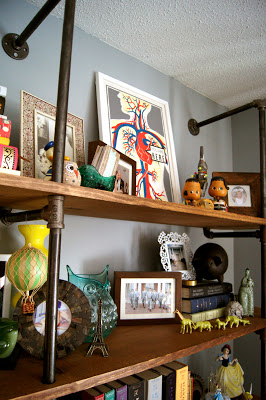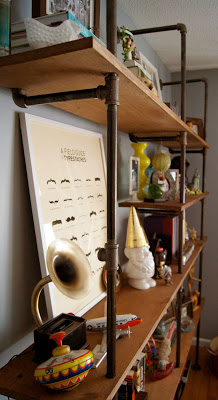 Tools:
- Power Screwdriver
- Stud Finder
- 1" Hole Saw
- Circular Saw/ Hand Saw/ Table Saw (or some other way to cut the boards to length)
Materials:
- black pre-threaded pipe (I got mine at Home depot) I bought the following lengths for this shelf:
- 9 of 12 inch
- 9 of 18 inch
- 11 of 8 inch
- 14 elbows
- 12 three-joint connectors
- 6 wall brackets
- 4 boards of pine 6 1/2ft x 1ft x 1in one cut to 3 1/2 ft
- wood stain
- 3in wood screws
Directions:
- Using the Stud-Finder, find the Studs in your walls that are best spaced for the shelf & mark them.
- Mark where the corresponding holes will need to be on the pine, drill hole 1inch in from outside edge
of board. NOTE: You will only need holes in the front.
- Stain the wood & let dry according to stain directions.
- Mark on floor where the bottom brackets will be, make sure they line up with the studs in the wall
where you will be connecting the top wall brackets. Do not screw into floor yet.
- Start building from the bottom up, screwing the pipe into the brackets and joints as far as they will go,
adding the boards as you go. NOTE: the backs of the shelves are resting on the elbow joint, it's very
sturdy and does not need to be attached in any other way than through the one pipe in front. Once
assembled, make sure everything is level and lines up before you screw the brackets into the floor and
the wall.